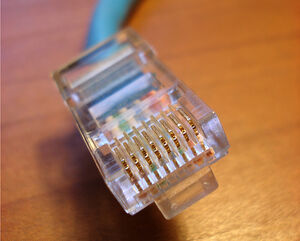 Cable is the medium through which information usually moves from one network device to another. There are several types of cable which are commonly used with LANs and WANs.
The most common types are:
Unshielded Twisted Pair (UTP) Cable
Shielded Twisted Pair (STP) Cable
Coaxial Cable
Fiber Optic Cable
Serial Cable

Cable categories:
Category

Speed

Use

1

1 Mbps

Voice Only (Telephone Wire)

2

4 Mbps

LocalTalk & Telephone (Rarely used)

3

16 Mbps

10BaseT Ethernet

4

20 Mbps

Token Ring (Rarely used)

5

100 Mbps (2 pair)

100BaseT Ethernet

1000 Mbps (4 pair)

Gigabit Ethernet

5e

1,000 Mbps

Gigabit Ethernet

6

10,000 Mbps

Gigabit Ethernet
Types of cable Connectors
The standard connector for unshielded twisted pair cabling is an RJ-45 connector

The most common type of connector used with coaxial cables is the Bayone-Neill-Concelman (BNC) connector

The most popular serial connectors are the smart serial connector and the V.35 connector
The most popular Connector for Fiber optic cable is the Subscriber connector and the FC connectors
Most switches use SFP Connectors to covert optical connections to copper.
Community content is available under
CC-BY-SA
unless otherwise noted.